I keep a sign in my studio that reads, "For a work of art to appear simple requires an agony of mind and spirit." It serves to remind me of the difference between a professionally acceptable painting and one truly outstanding, i.e. one with the universal appeal to survive future cycles of changing taste.

Although a natural scene may give the impulse to begin a painting, the finished work when successful expresses its own world of aesthetic beauty and wonder - a unique creation in two dimensions with its own laws. For a mature artist, the challenge is not to slavishly copy nature, but to address the more difficullt problems of composition, color, rhythm, and texture - and to create that mysterious quality that makes these elements work together as a unity.

Only an artist's inner self can tell him when the painting is "right," or when it needs further development. My work is not complete until the painting gives me that feeling of satisfaction which comes only from within.

DAVID SPURLIN paints the moods of the sea, the storms and sunsets of the desert, the morning reflections of the harbor, and the grassy hills of central California - he does this with strong yet sensitive emotions. But it was not always this way.

Although David was born with an instinctive love for drawing and perspective, circumstances did not let him concentrate on art until years after he had graduated in music composition. Through many experiences, including life as a jazz musician, designer of spacecraft equipment, and fountain designer for Disney, he was continually making drawings and color sketches - all this time denying to himself these might be serious expressions of art.

Because the inner hunger for art would not go away, his wife in 1955 bought him a set of oil paints. His first oil painting was a mess, but his second, an ambitious seascape, sold immediately. Even so, he needed serious training. He plunged into art classes at night and private study, while visiting galleries and museums, devouring books on art, studying composition, figure drawing, color theory, art history - he had to get a second education and learn a new world.

He moved to Massachusetts, to absorb the Down East painting traditions of Rockport and Gloucester. When he returned to the West Coast for advanced training at Chounard's Art Institute, his work was showing some maturity. He began to win awards and have solo exhibitions, serving twice as President of Pasadena Artist Associates that sponsored the large art auction dinners at Huntington Hotel to finance the Pasadena Art Fair.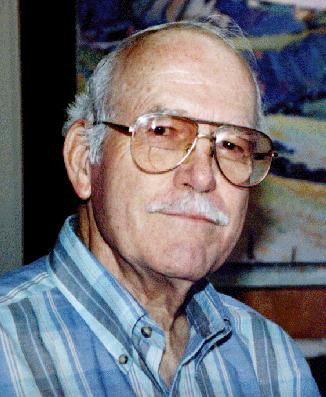 In the late sixties the art scene was changing - non-objective works were the big thing, and the word "beauty" never mentioned. David waited painfully until tastes again embraced representational art, and in 1987 he returned with renewed vigor to his painting. Courses at Art Center and work shops in California and Santa Fe helped him recover and surpass his former sureness of statement. By 1995 he won 2nd Place at the Ocean House Senior Competition, then Best of Show at the San Gabriel FAA. In 1996 he twice received the Sweepstakes Award (Best of Masters Circle) at the spring and fall SGFAA competitions, and in November he won the Board of Directors Award - Best of Show - at the La Habra Art Association.
EDUCATION:
B.A. Degree, Occidental College 1949
Pasadena City College 1961-64, 88, 92
Chouinard Art Institute 1965-67
Art Center College of Design 1989-91
Instruction from Sam Hyde Harris, Frode Dann, Herb Fuhrmann, and Phil Daves
---
SOLO EXHIBITIONS:
Palm Desert Art Gallery;
Cafe Galleria, Laurel Canyon;
Add Gallery, Pasadena;
Dabney Hall, Caltech;
Theosophical Library Center, Altadena.
---
JURIED/INVITATIONAL SHOWS:
Pasadena Art Fair;
Springfield Art Assoc, Mass;
Wilshire Federal Gallery, Los Angeles;
San Gabriel Valley Art Assn;
Hillcrest Festival of Arts, Whittier;
San Gabriel Fine Arts Association (Masters Circle);
City of Brea cArte Blanche Exhibition;
Ocean House Senior Competition, Santa Monica
---
CASH AWARDS:
L.A. Outdoor Art Festival, Barnesdall Park
Catalina Annual Art Competition
Pasadena Art Fair (purchase award)
Ocean House Senior Art Competition
San Gabriel Fine Arts Association (Best of Show)
San Gabrial FAA (Sweepstakes Award Best of Masters Circle Spring '96 and Fall '96)
La Habra Art Association (Best of Show - Board of Directors Award, '96)
Back to David Spurlin Home Page
Contact the Artist
or call
(626)798-8610
Last Modified July 16, 1998
Copyright &copy 1998 Abacus