---
SAT, ACT, TOEFL College Prep English Practice
---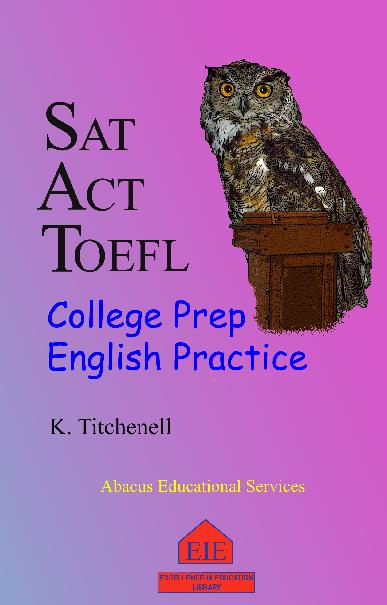 SAT, ACT, TOEFL College Prep English Practice is not about test-taking as much as improving those English verbal skills being tested – as quickly, efficiently, and enjoyably as possible. Each chapter begins with a whimsical story whose highly concentrated vocabulary is presented in a memorable context with side-by-side glossary. There follow comprehension quizzes, language analysis, practice worksheets and suggested writing projects.
College Prep English Usage goes beyond simply teaching grammar, style and vocabulary. It trains the reader to determine current English language usage – with a mouse-click and a few keystrokes – far more readily than would be possible with any style or grammar manual, and to learn to emulate the English that dominates on the Net or in any specific interest area or region, particularly the academic realms, through quantitative analysis of targeted searches.
An atmosphere of playfulness and frivolity is maintained throughout – in the stories, exercises, grammar examples and suggested projects.
CPEP is an update and expansion of SAT Practice: The New Verbal Section (See below), which treated specifically the SAT exam of 2005 and has been used extensively in homeschooling environments.
For a deeper picture, use the Look Inside This Book feature on the Amazon page.
Author: K. Titchenell
ISBN-10: 146108380X
Pages: 314
Price: $19.95
---
SAT Practice: The New Verbal Section
---
English vocabulary, usage, comprehension, grammar and composition preparation for the New SAT, TOEFL, AP and similar examinations requiring English reading and writing skills. Reading selections incorporating SAT vocabulary with side-by-side glossary are followed by comprehension
quizzes, grammar quizzes, extensive glossaries with synonyms and word variants, English usage notes, and suggested projects. Appendices, comprehensive glossary, and index.
Check out the Reviews, Vocabulary List, Introduction, Table of Contents, Sample Chapter, Index, Back Cover
$17.95
ISBN 0-9758796-0-X
Kindle Edition
$4.00

Highly erudite lunacy. This book is a lot more fun than the others.

---
SAT Resources
---