Thoughts for Homeschoolers
We are faced with the paradoxical fact that education has become one of the chief obstacles to intelligence and freedom of thought.
- Bertrand Russell
My job is not to teach at all, but to find the opportunities for my kids to learn. NOT knowing something can be an advantage, as it reminds me of the wealth of resources out there in the community and world, if only we are willing to go look for them.
-David Albert, in "And the Skylark Sings with Me"
How to make reading as simple as possible! Kindle: New from Amazon.com.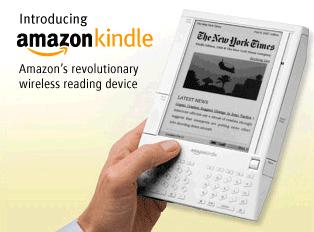 Kindle: Amazon's New Wireless Reading Device.
No monthly fees. Use anywhere. Rapid inexpensive book downloads. Weighs only 10 oz. Barely thicker than a pencil. Reads like paper. Many free resources, including Wikipedia and the Oxford American Dictionary. Holds 200 books with memory expansion for more. One charge lasts for days -- read War and Peace on a single charge. $359.

&nbsp