Thoughts for Homeschoolers
Sometimes, in spite of my efforts, I am mistaken for a leader and expected to act in a leaderly fashion. I beg off by saying that even after a half century on earth I'm still trying to get a handle on managing my own life, and do not yet feel capable of managing anyone else's. It sounds like modesty, but it is really self-interest. I notice that, in general, leaders have less time for things that are important like gardening and fishing, and they spend too much time arguing on the telephone, which can't be good for their digestion.
-Earl Gary Stevens, Home Education Magazine, 1995
In order to form an immaculate member of a flock of sheep one must, above all, be a sheep.
- Albert Einstein
How to make reading as simple as possible! Kindle: New from Amazon.com.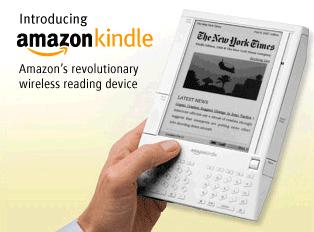 Kindle: Amazon's New Wireless Reading Device.
No monthly fees. Use anywhere. Rapid inexpensive book downloads. Weighs only 10 oz. Barely thicker than a pencil. Reads like paper. Many free resources, including Wikipedia and the Oxford American Dictionary. Holds 200 books with memory expansion for more. One charge lasts for days -- read War and Peace on a single charge. $359.

&nbsp