Thoughts for Homeschoolers
Thou hast most traitorously corrupted the youth of the realm in erecting a grammarschool; and whereas, before, our forefathers had no other books than the score and the tally, thou hast caused printing to be used; and contrary to the king, his crown, and dignity, thou has built a paper-mill.
-William Shakespeare, in King Henry IV
If you think in seasons, plant cereals. If you think in decades, plant trees. If you think in centuries, educate your children.
-Chinese Proverb
How to make reading as simple as possible! Kindle: New from Amazon.com.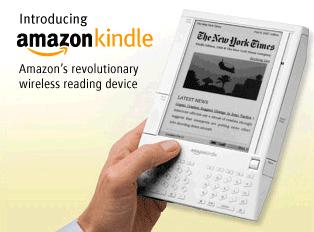 Kindle: Amazon's New Wireless Reading Device.
No monthly fees. Use anywhere. Rapid inexpensive book downloads. Weighs only 10 oz. Barely thicker than a pencil. Reads like paper. Many free resources, including Wikipedia and the Oxford American Dictionary. Holds 200 books with memory expansion for more. One charge lasts for days -- read War and Peace on a single charge. $359.

&nbsp