Thoughts for Homeschoolers
After a certain high level of technical skill is achieved, science and art tend to coalesce in esthetics, plasticity, and form. The greatest scientists are always artists as well.
- Albert Einstein
Could I climb to the highest place in Athens, I would lift my voice and proclaim, "Fellow citizens, why do you turn and scrape every stone to gather wealth and take so little care of your children to whom one day you must relinquish it all.
- Socrates
How to make reading as simple as possible! Kindle: New from Amazon.com.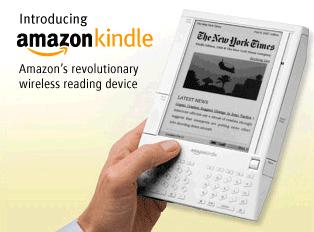 Kindle: Amazon's New Wireless Reading Device.
No monthly fees. Use anywhere. Rapid inexpensive book downloads. Weighs only 10 oz. Barely thicker than a pencil. Reads like paper. Many free resources, including Wikipedia and the Oxford American Dictionary. Holds 200 books with memory expansion for more. One charge lasts for days -- read War and Peace on a single charge. $359.

&nbsp