Thoughts for Homeschoolers
...think of the New York City public school system in which I work, one of the largest business organizations on planet Earth. While the education adminsistered by this abstract parent is ill-regarded by everybody, the institution's right to
compel
its clientele to accept such dubious service is still guarteed by the police. And forces are gathering to expand its reach still further -- in the face of every evidence that it has been a disaster throughout its history. -- John Taylor Gatto
1. Confusion 2. Class Position 3. Indifference 4. Emotional Dependency 5. Intellectual Dependency 6. Provisional Self-Esteem 7. One Can't Hide. It is the great triumph of compulsory, government monopoly mass-schooling that among even the best of my fellow teachers, and among even the best of my students' parents, only a small number can imagine a different way to do things
- John Taylor Gatto
How to make reading as simple as possible! Kindle: New from Amazon.com.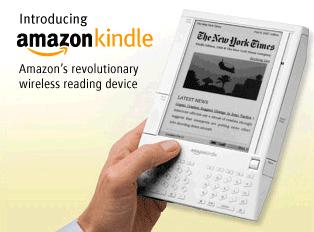 Kindle: Amazon's New Wireless Reading Device.
No monthly fees. Use anywhere. Rapid inexpensive book downloads. Weighs only 10 oz. Barely thicker than a pencil. Reads like paper. Many free resources, including Wikipedia and the Oxford American Dictionary. Holds 200 books with memory expansion for more. One charge lasts for days -- read War and Peace on a single charge. $359.

&nbsp