Thoughts for Homeschoolers
My schooling did me a great deal of harm and no good whatever; it was simply dragging a child's soul through the dirt.
- George Bernard Shaw
Homeschooling parents can ignore what are for the most part government directives as to what shall be taught and when. Rather, parents and children can work together to develop courses of study that address long-term needs, interests, and capabilities in the context of what they, and not a bureaucracy of somewhat dubious credibility, deem important and necessary.
-David and Micki Colfax, "Homeschooling for Excellence"
How to make reading as simple as possible! Kindle: New from Amazon.com.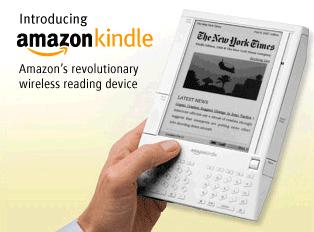 Kindle: Amazon's New Wireless Reading Device.
No monthly fees. Use anywhere. Rapid inexpensive book downloads. Weighs only 10 oz. Barely thicker than a pencil. Reads like paper. Many free resources, including Wikipedia and the Oxford American Dictionary. Holds 200 books with memory expansion for more. One charge lasts for days -- read War and Peace on a single charge. $359.

&nbsp