Thoughts for Homeschoolers
Spoon feeding in the long run teaches us nothing but the shape of the spoon.
- E. M. Forster
One of the first things a family tries to teach its children is the difference between good and evil, right and wrong. One of the first things our schools do is destroy that distinction.
-John Taylor Gatto, foreword, "The Art of Education"
How to make reading as simple as possible! Kindle: New from Amazon.com.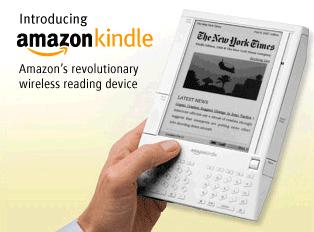 Kindle: Amazon's New Wireless Reading Device.
No monthly fees. Use anywhere. Rapid inexpensive book downloads. Weighs only 10 oz. Barely thicker than a pencil. Reads like paper. Many free resources, including Wikipedia and the Oxford American Dictionary. Holds 200 books with memory expansion for more. One charge lasts for days -- read War and Peace on a single charge. $359.

&nbsp