Thoughts for Homeschoolers
School forcibly snatches away children from a world full of the mystery of God's own handiwork, full of the suggestiveness of personality. It is a mere method of discipline which refuses to take into account the individual. It is a manufactory specially designed for grinding out uniform results. It follows an imaginary straight line of the average in digging its channel of education. But life's line is not the straight line, for it is fond of playing the see-saw with the line of average, bringing upon its head the rebuke of the school. For according to the school life is perfect when it allows itself to be treated as dead, to be cut into symmetrical conveniences. And this was the cause of my suffering when I was sent to school....my mind had to accept the tight-fitting encasement of the school which, being like the shoes of a mandarin woman, pinched and bruised my nature on all sides and at every movement. I was fortunate enough in extricating myself before insensibility set in.
- Rabindranath Tagore
Great spirits have always found violent opposition from mediocrities. The latter cannot understand it when a man does not thoughtlessly submit to hereditary prejudices but honestly and courageously uses his intelligence.
- Albert Einstein
How to make reading as simple as possible! Kindle: New from Amazon.com.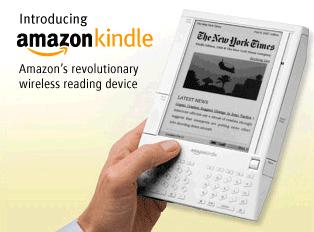 Kindle: Amazon's New Wireless Reading Device.
No monthly fees. Use anywhere. Rapid inexpensive book downloads. Weighs only 10 oz. Barely thicker than a pencil. Reads like paper. Many free resources, including Wikipedia and the Oxford American Dictionary. Holds 200 books with memory expansion for more. One charge lasts for days -- read War and Peace on a single charge. $359.

&nbsp