Thoughts for Homeschoolers
The crazy combative patriotism that plainly threatens to destroy civilization is very largely begotten by the schoolmaster and the schoolmistress in their history lessons. They take the growing mind at a naturally barbaric phase and inflame it and fix its barbarism.
-George Herbert Wells, in "The Informative Content of Education"
Spoon feeding in the long run teaches us nothing but the shape of the spoon.
- E. M. Forster
How to make reading as simple as possible! Kindle: New from Amazon.com.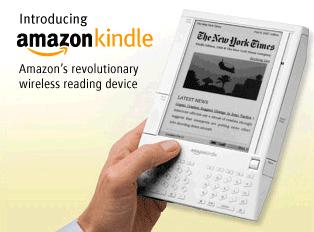 Kindle: Amazon's New Wireless Reading Device.
No monthly fees. Use anywhere. Rapid inexpensive book downloads. Weighs only 10 oz. Barely thicker than a pencil. Reads like paper. Many free resources, including Wikipedia and the Oxford American Dictionary. Holds 200 books with memory expansion for more. One charge lasts for days -- read War and Peace on a single charge. $359.

&nbsp